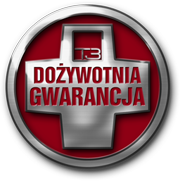 Tecna Display warrants that the product is free from defects in material and workmanship, for so long as the product is owned by the original consumer purchaser. If, during the warranty period, this product proves to be defective Tecna Display will remedy the defect by either repairing or replacing the product or any of its defective parts, at Tecna Display's option.

If you need warranty service, you must send the product, together with evidence that you are the original consumer purchaser of the product, postage prepaid to Tecna Display at the address below.

When supplying replacement product under this warranty, Tecna Display reserves the right to substitute product of comparable value and design for discontinued product designs.

Tecna Display does not assume any responsibility of failures, breakage or causes which result from abuse, misuse, negligence, accident, improper assembly or installation or other causes beyond Tecna Display's reasonable control.

TECNA DISPLAY EXCLUDES AND WILL NOT PAY ANY INCIDENTAL AND CONSEQUENTIAL DAMAGES.

By this Tecna Display means any loss, expense or damage, other than to the product itself that may result from a defect in the product.

This guarantee is in addition to your Statutory Rights.

This warranty gives you specific legal rights, and you may also have other rights that vary from country to country.